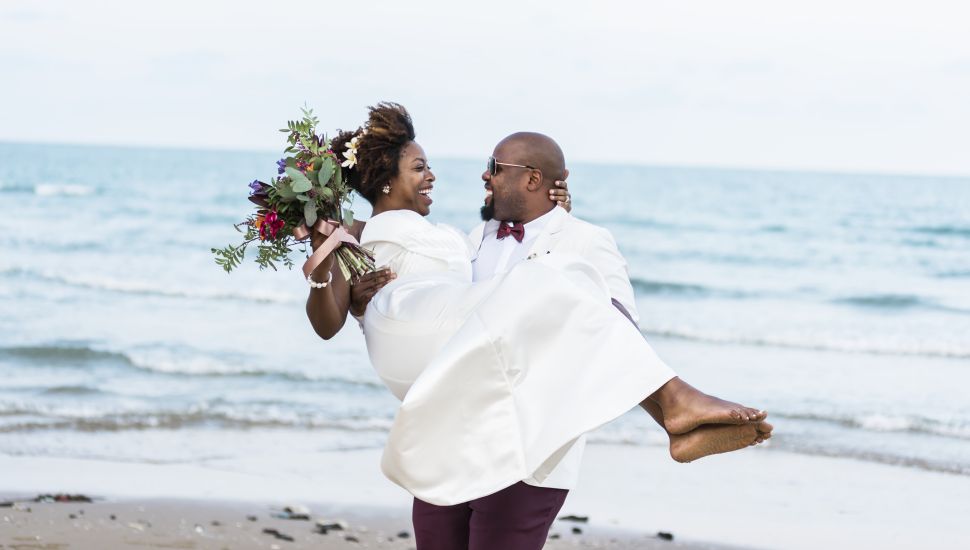 Getting Married Abroad: All You Need to Know

Posted on 11 March 2019 by starttravel.co.uk
Picture taking your vows against a backdrop of azure blue seas lapping a palm-fringed beach; or saying 'I do' in a 16th century church on Italy's Amalfi Coast. Such overseas wedding ceremonies are more popular than ever, with thousands of Britons tying the knot in exotic or otherwise picturesque locations, creating memories that will last a lifetime - not to mention scores of stunning Instagram photos!
The wedding planners
For some, even the notion of organising a wedding in the UK can seem overwhelming - so getting hitched abroad can appear to add another layer of complexity. But there are plenty of experienced wedding planners, operating both overseas and in the UK, that can help ensure the day goes off without 'a hitch'. From banquets beneath the stars to bohemian beach-side gatherings, from cliff-top ceremonies to sunset receptions - wedding planners can ensure you have the wedding you've always dreamed of.
A good wedding planner will help you choose crucial things like:
Venue
Accommodation
Transport
Reception
Wedding dress and suit hire
Florists
A small affair?
There's no denying that having a wedding overseas can be expensive. Even if your destination is generally cheap (e.g. Bali), you must factor in the cost of long-distance flights. In some cases, this can mean a rather slimmed-down wedding. While you might expect a hundred or more people to turn up to a UK wedding, how many of your relatives and close friends can afford the cost of flights and accommodation associated with a far-away wedding?
Naturally, if you as a couple decide to cover flights and accommodation of relatives and friends, the final bill could be considerable.
However, for those who would prefer to have a small, simple, quiet wedding, deciding to tie the knot overseas could the ideal way to do keep the guest list small!
Paperwork
The additional paperwork and organisation for an overseas tie-up can seem daunting, but in most countries the process is surprisingly straightforward.
Fundamental to any overseas wedding is a document proving you can legally get married. That is to say, you are not already married, and that any legally-required period after a divorce has elapsed (for example, a certain period is necessary for women in Italy).
Same-sex marriages
Many popular destinations for overseas weddings do not permit same-sex marriages - Bali and the Seychelles, for example.
However, it is legally performed and recognised in most European countries, North America and many Central and South American nations. As of January 2019, the countries permitting same-sex marriages were: Argentina, Australia, Austria, Belgium, Brazil, Canada, Colombia, Denmark, Finland, France, Germany, Iceland, Ireland, Luxembourg, Malta, Mexico, the Netherlands, New Zealand, Norway, Portugal, South Africa, Spain, Sweden, the United Kingdom, the United States, and Uruguay. Same-sex marriage is due to become legal in Costa Rica and Taiwan soon.
Mauritius
Mauritius boasts stunning white sandy beaches and lush green hinterlands - no wonder it's a top wedding destination for Britons. In terms of documentation, the FCO states "The UK doesn't issue certificates of no impediment (CNI) for marriages in Commonwealth countries."
Additionally, "It's not possible to get legal recognition for your same-sex relationship in Mauritius."
Seychelles
The Seychelles is another beach-lover's paradise, with amazing hotels and a tourism industry set up for weddings.
Once again, the FCO states: "The UK doesn't issue certificates of no impediment (CNI) for marriages in Commonwealth countries. You'll need to explain this if you're asked to provide a CNI or a similar document to prove you're allowed to marry."
Same-sex marriages are not possible in the Seychelles.
Sri Lanka
More beautiful beaches, plus elephants, giraffes and turtles - Sri Lanka is perfect for nature-loving couples. It's also blessed with some excellent five-star hotels - invariably for a lot less than back home.
Contact the British High Commission to learn about local marriage laws.
Once again, Britain doesn't provide certificates of no impediment (CNI) for marriages in Sri Lanka and same sex marriages are not permitted.
Thailand
The south of Thailand is peppered with idyllic islands and dream-like beaches - perfect for a wedding ceremony by the sea.
To get hitched in Thailand you'll need to visit the local district office ('amphur') where you wish to get married and learn about local marriage laws. Officials will tell you what documents you need.
In order to prove you're free to get married you will need to swear an affirmation that says as much. This costs £50 per person, paid in baht. It must be signed in person at the British Embassy in Bangkok.
While same-sex relationships are common and accepted in Thai society, the law does not permit same-sex marriage or civil partnerships.
Bali
Beautiful Bali has long been popular with those seeking an idyll in which to get married. Incredible five-star hotels deep in the jungle; glorious beaches and many marriage-planning services - the island has the lot.
Bali is part of Indonesia. You'll need to make an appointment at the British embassy or consulate in order to swear an affirmation or affidavit stating that you're free to marry.
You can either make an appointment at the embassy in Jakarta or at the consulate in Bali.
Call the local civil registry office in Indonesia to learn when you need to swear your affirmation or affidavit.
Italy
Will you choose a medieval church perched on an Amalfi clifftop? Or a venue in the ravishing Tuscan countryside? Whatever kind of wedding you're dreaming of, Italy's remarkable landscape, architecture and history can provide it.
Visit the local town hall to find out about marriage laws and the documents you'll need. For women, a period of 300 days must have elapsed after the divorce or death of your husband before you can get married.
You'll need a certificate of no impediment (CNI) and a statutory declaration. You can get these from your local registry office in the UK. The fee for a CNI is £35.
Learn more about getting married abroad by visiting the FCO webpage: https://www.gov.uk/marriage-abroad
0 comments
---
There are currently no comments for this post.