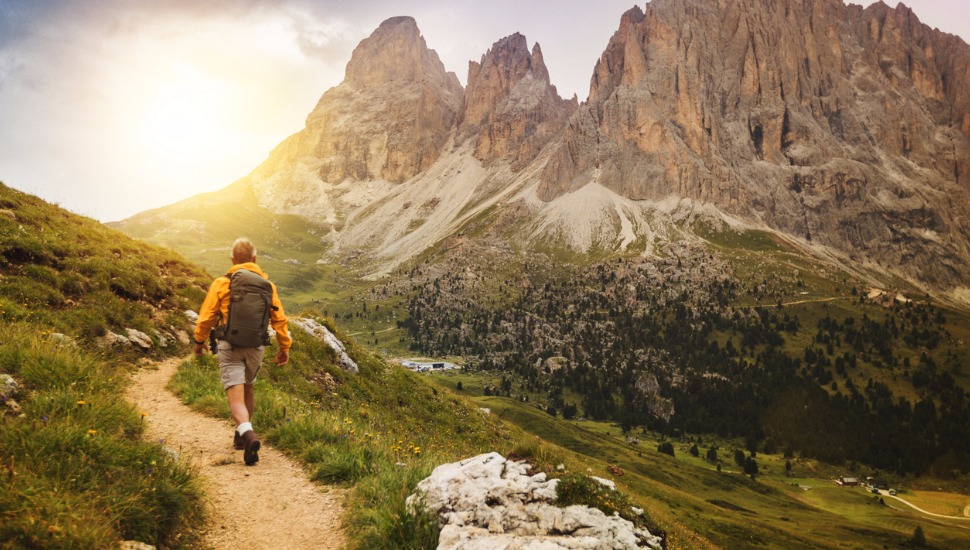 9 Backpacking Tips for the Over-60s

Posted on 06 December 2018 by starttravel.co.uk
Backpacking is no longer the preserve of 18-year-olds on gap years or students on long summer breaks. The idea of pulling on a backpack and enjoying the pleasures of low-cost travel is one that appeals, increasingly, to older people too.
That said, for older people who want to see the world without blowing their life savings, the realm of budget travel can be daunting: Won't I stand out like a sore thumb? How will I deal with living out of a backpack? Or sleeping in a dorm room with ten other people?
Here we offer up nine useful tips for older travellers who are tempted by the backpacker scene...
You don't need to over-plan it
Naturally, if you have particular concerns about backpacking - such as arriving in new cities before sun down - you should make plans so you feel safe and secure. However, in terms of direction or objectives, you don't necessarily need to over-plan. 72-year old Sherill, with "the kids out of the house and the husband gone," simply got in her car and set off. "The plan was to camp on the beaches for the winter and figure out the rest on the way. Ten years later I am still traveling."
Pack ear plugs and an eye mask
This tip goes for anyone who plans to sleep in dorm rooms. Unless you're a heavy sleeper, you'll need these items to block out the sound of doors opening and closing, chatty fellow backpackers and people who turn on the light at 3am!
Don't let bad travel experiences stop you from trying again
John Kirkaldy, 70, who travelled around the world for an entire year, said "I had a terrible gap year at 18 and it has haunted me ever since. And so, after a 45-year career as a university and college lecturer, I decided to try again in my retirement."
Cut costs by WWOOFing or working for food and board
John (above) also found a great way to reduce his costs: "I joined WWOOF (Willing Workers on Organic Farms) and worked on farms in France, Australia and the US." Working on a WWOOF farm usually means you receive bed and board in exchange for a few hours of work each day.
Try flashpacking
If you don't fancy sharing dorm rooms with strangers - and your funds extend to it - you could opt for a spot of 'flashpacking'. This is a kind of high-end backpacking where travellers stay in luxury hostels and don't mind splashing out for higher quality food, or stumping up for excursions and attractions. In fact, to call yourself a flashpacker, all you really need is a backpack.
Try Interrailling across Europe - or worldwide
Yes, Interrailling is open to over-50s. With a low-cost Interrail ticket you can board certain trains at no extra cost, and from your window glimpse the steeples of Venice, the lakes of Garda and the foothills of the Alps pass by. Visit Interrail.eu for more information.
Be ready for a few bumps along the way: Get travel cover
All types of travel comes with some risk: losing your baggage or travel documents; falling ill; having your personal belongings stolen - among others. You may be at a slightly higher risk when staying in dorm rooms or in parts of cities where cheaper accommodation is located, which is why taking out comprehensive travel cover is so important.
Take advantage of the Internet to stay in touch
Staying in touch with family and friends while you're away will make life much easier. If you haven't got one already, open a video calling account such as Skype, which allows free Skype-to-Skype calls (assuming the person on the other end has an account too), or simply use Facebook or other social media apps for video chats. You could also buy a sim card at your destination so the folks back home can get hold of you easily.
Seize the moment and go for it
70-year-old John Kirdcaldy's gap year showed him that he "could still hack it.... It gave me confidence to deal with whatever life might throw at me over the next few years. I'm planning more, albeit shorter, trips. For older people thinking about a gap year, all I can say is: go for it." Whether you're planning a trip for a week or a year, the same sentiment applies.
0 comments
---
There are currently no comments for this post.